All Under One-roof. Avail It!
At Unicare, we add value to our customers' organization by letting them concentrate on their core business competencies while we manage and deliver a top-notch Integrated Facility Management services across India, creating a win-win situation! With over 12 years of domain expertise and in-depth understanding of industry standards and practices, we provide a complete solution to cater to the growing needs of organization.
Our integrated service delivery model includes a wide range of services such as FMS, Housekeeping Services, Security Services, Property Management Services, Office Support Services, M&E Services, Pest Control Services, Disinfection Services and Customer Support.
Guard Your Properties With The Efficient Unicare Security Services in Amaravati.
Physical security is important to the proper operation of any business facility. Employees, valuables, and security all deserve equal attention in a business. An imbalance in any of these causes significant financial and property loss. Because security is an important part of any business, Unicare security services in Amaravati provide protection services to various businesses. It places enormous stress on providing high-quality services while focusing on security. Unicare Services have served high-profile companies and individuals who face life-threatening or other hazardous conditions in the public and private sectors.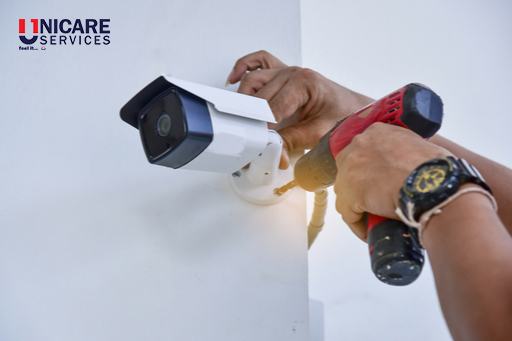 Unicare Security Services: The best in the City
The solutions from Unicare security services in Amaravati can be utilized to meet the requirements of a wide base of customers, from individuals and small businesses to huge corporations. At Unicare, the team acts as a true facility service partner; its workers are deployed at workstations after experiencing a rigorous process that includes general training, security training, and physical fitness. 
Unicare security guards have the capacity to put up a good foot forward during any emergency conditions. Professionals in the security service of Unicare put in significant effort to win the trust they need to succeed in their work.
What do We offer?
The Unicare group of professionals, with its unique and precise approach, will protect your business premises, assets, and tenants against theft, vandalism, and bodily injury. With perfect surveillance, the team keeps a fire watch at your location and prevents unlawful access to the property. Using these approaches, the team makes it easy to secure your properties, whether you have one site or multiple sites in different geographic areas. All trained office security guards offer tailored customer service skills to suit your business requirements.
Factory Security Services
A wide variety of integrated solutions are included in factory security services in Amaravati. These solutions not only help safeguard the external portions of the site against break-ins and incursions, but they also assist in checking the internal manufacturing processes and production lines.  
The team of well-experienced security officers protects your factory facility by mitigating several risks. They can professionally identify any hazardous activity and take necessary action before it becomes an enormous problem. By contacting Amaravati's best factory security guards provider, you can get armed officers who will alert the criminals not to target your facility.
CCTV Surveillance Services
CCTV surveillance is vital for successfully monitoring sites and deterring crime. CCTV is widely used by businesses and government facilities to monitor and capture video/audio evidence. 
Unicare security services in Amaravati have installed and maintained CCTV surveillance systems with hundreds of cameras ranging in size from medium to business. These installed surveillance systems enable our customers to monitor many sites from a single Security Operations Center (SOC).
A workplace fire can be one of the most dangerous risks for workers and the general public. It can cause significant injuries, fatalities, and extensive property damage. As a result, fire safety is important. The role of the fire service of Unicare Services is to extinguish fires and safeguard lives and property in the condition of fire. The team uses the best approach and process to extinguish the fire and save the facility from any other hazard.
Want to know all other security services? Visit the official website
Why Choose the Unicare Security Services
Expert team of security guards

24- hour customer support 

Personalised service 

High-quality materials with best implementation practices

Robust reporting 

Better CCTV surveillance 

Standard emergency drill and training 

Flexible adjustments 

Best compliance process
Summing It Up
Unicare security services in Amaravati have grown to be dependable in a short period due to their focused services. The team strongly believes in building highly valued and strong connections with its clients by providing secure assistance with the highest level of control and ensuring effective communication. Private bodyguards, security officers, guards, and security guard training are also available. Our clientele includes schools, colleges, offices, shopping malls, multiplexes, businesses, construction sites, and corporate organisations. 
For more detailed information about our security service, contact us at +91 96770 88801 
Or  write to us at: sales@unicareservices.in
Frequently Asked Questions (FAQs)
What function do security services play?
Their goal is to prevent a crime from occurring by proactively monitoring for suspicious behaviour, minimising risks as they emerge, and notifying the relevant authorities when an incident occurs. Security guards protect people, property, and other important assets.
How are Unicare security services in Amaravati better than other security agencies?
  Unicare provides the best-in-class security services to its clients through its expert professionals and cutting-edge technology. Moreover, all security professionals are highly trained to tackle any emergency. They work in their best interest and dedication.
What exactly is security customer service?
A security/customer service representative is primarily responsible for enforcing security measures at commercial facilities to prevent theft and protect property and individuals.
Is Unicare uses any advanced technology for its CCTV surveillance?
Yes, Unicare services use the most reliable and authentic technology to get better video and audio of the property in surveillance. With its state-of-the-art video and two-way audio technology, complete confirmation with international standards can guarantee robust, comprehensive, and fool-proof surveillance of your property.
How to avail of the security services of Unicare?
 This is very simple. You can visit the official website and fill in the booking form or contact us at +91 96770 88801  or mail us at: sales@unicareservices.in
Our Recent Blogs
Reach out to our latest blogs regarding our services and to know more about us!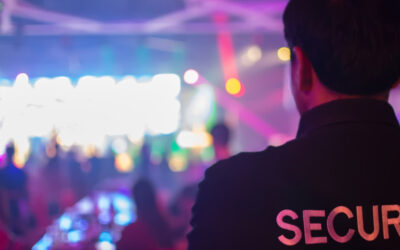 Are you ready to enjoy the Festival of Lights with open arms and an open heart? Diwali, the...

At Unicare Services, we have a team of dedicated people who use cutting-edge tools and technologies to keep your business operating at its optimal capacity. We take pride in offering the facilities management services that keep you, your valuable customers, and your loyal staff safe and secure. Contact us now.
Chennai
Hyderabad
Bangalore
New delhi
Gurgaon
Cochin
Mumbai
Pune
Ahemdabad

Copyright © 2020 - Unicare Services All Right Reserved