In simple words, Facilities Management refers to the tools that provide and manage a number of services in order to coordinate the organization's function. Facility Management majorly deals with the functionality, safety, and sustainability of property or real estate.
Why Is Facility Management Needed?
All of us want our homes and workplaces to be safe, sound, and efficient. There are always going to be normal wear and tear, but proper facility management will ensure that the short-term and long-term value of the property remains intact. 
There will be deprecation, no doubt, but the property and its usability will not be affected through proper care.
Facility management is also needed for space management, lease management, property maintenance, and excellent workplace experience.
How Unicare helps to triple your results?
Reasons are here!
As one of the most professional Facility Management Companies in Chennai, we at Unicare Services provide excellent facility management services to clients to boost their profitability, efficiency, and their competitiveness. 
For many years, we have been providing solutions to our clients with exceptional quality and dedication. If you are looking for Facility Management Services in Chennai then Unicare Services is the one you should opt for.
Suppose you let us handle your facility management needs. In that case, you will be freed of the strain to run around for support activities, maintenance and you will be able to save up on a tremendous amount of money, time, and effort that is spent in these activities. We use our expertise and skills to cater individually crafted services that best suit your facility's needs and requirements.
Our facility management services will improve the day-to-day functioning of your workplace with minimal client participation. 
Further help from Unicare Services
Facility Management Services can be broadly classified into two categories viz. Hard Facilities Management and Soft Facilities Management. In simple words, the former deals with physical properties like wiring, air-conditioning, plumbing, maintenance of elevators, bathroom fixtures, etc.
On the other hand, soft facilities management deals with the numerous tasks that people like pest control perform, cleaning, landscaping, security, food catering, vending, relocations, and groundskeeping.
Absolute pros of facility management: 
There are numerous benefits of using facility management for your company. 
Some of the most important ones have been listed below:
Savings: 

As the owner of properties, you must be spending a lot in terms of space management. However, through effective utilization of facility management services via a manager, you can bring down these costs and save a lot of your money.

Maintenance of Property: 

If you hire a facility manager, then you need not worry about the timely maintenance, renovation, or normal wear and tear of the property. All of this will be effectively managed without bothering you.

Smooth Functioning: 

An expertly managed property will function smoothly, and this will make the entire thing productive, enjoyable, and stress-free for everyone, from owners to workers.

Proper Check and Streamlining of Activities: 

Facility managers keep an eye on the property and make sure that any problem or issue that crops up is solved within the minimum possible time.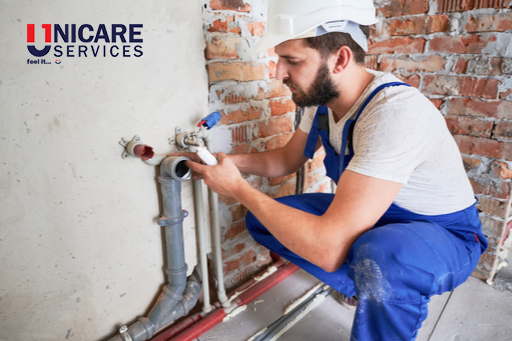 Why Choose Us?
Complete Solutions: 

As a top facility management company in Chennai, we are your one-stop solution for all your problems pertaining to facility management, lease administration, capital project planning as well as maintenance and management of your property.

Technology-Driven:

 The facility management services in Chennai

 

that we provide are technology-driven and will assist in continuously monitoring and improving the client's operation and enabling desirable, quality output.

Service Range: 

Our service range is extremely diverse as we cater to a number of clients across various industries and sectors. Over the years, Unicare Services has established itself as a renowned, trustworthy name by providing facility management solutions to various clients who have vouched for our credibility and dedication.

High-level Digitalization:

 We use high-level digital technologies to manage facilities and give back maximum benefits to our clients. This helps us in focusing on the principal jobs while being cost-efficient.

Sound Experience:

 We are a key player when it comes to providing facility management services to our clients. Over the years, we have gained expertise and skills that are crucial in providing effective insights into problems that look insurmountable. Our style of making decisions and incorporating and executing them is based on the principle of dynamism and objectivity, and we leave no stone unturned in giving the best to our clients.