Unicare's
housekeeping services in Navi Mumbai
are the finest in the business, and we serve residential and commercial customers. Since the needs of each client vary, we don't believe in providing a one-size-fits-all approach to cleaning and instead educate our staff to tailor their approaches to meet each client's specific requirements. Whether you need regular maid service or would like to book a one-time thorough cleaning, this plan can easily accommodate your needs and preferences. We're also a member of a team that offers green cleaning for apartments, condos, and small workplaces.
Our housekeeping services in Navi Mumbai provide floor sweeping and mopping maintenance of furniture fixtures and routine cleaning of window glass, door panels, tabletops, and other surfaces. We place more importance on making the home and any area disinfected and deodorised, including sanitising the toilets, vacuuming often, and using trash disposal.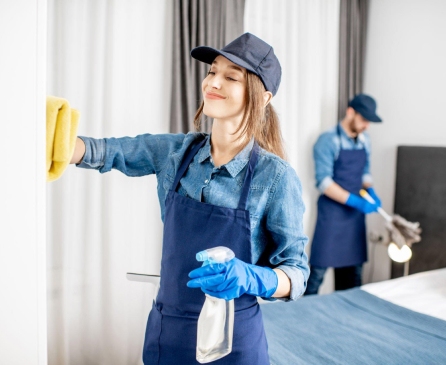 Why is Unicare Unique from Others?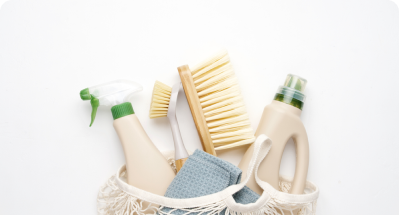 Eco-friendly goods
Our maid service's cleaning supplies are all natural and safe for the environment. They don't stink or trigger allergies in people. Sponge, soap, and brush products from our store are all entirely harmless for use on carpets, upholstery, and walls of any material.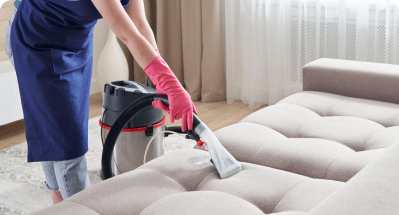 Rapid output
Our cleaners at your facility are of the highest quality. They cleaned the whole building in a few hours, from the floors to the carpets to the walls and rooms. Our Housekeeping Service Company in Mumbai, Navi Mumbai, and Thane requires a single phone call before sending a team of our most efficient cleaners to your location.
Reasonably-Priced Cleaning Packages
All of our clients may take advantage of our affordable housekeeping service. In addition, each cleaning package has everything you'll need to restore order to your house. We clean carpets, upholstered furniture, bathrooms, and exterior walls. Our comprehensive housekeeping services in Navi Mumbai are designed to leave your home spotless and completely sanitary.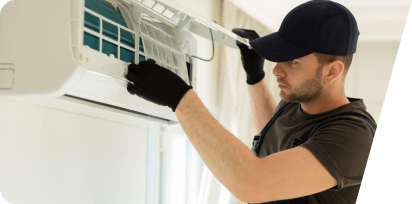 Commercial & Residential Cleaning
While we clean houses and apartments,
our services
are not confined to those types of buildings. Our
housekeeping services in Navi Mumbai
also provide commercial cleaning for venues like workplaces, shopping centres, businesses, and eating establishments. Carpet and floor cleaning are included in our commercial cleaning packages.
To ensure the highest quality of service for our clients in Mumbai, Navi Mumbai, and Thane, we only use the most vetted and highly trained experts and cleaners from throughout the city. In excess of ten years of experience has been accumulated by our experienced cleaners. In only a few hours, they can have your home or business looking like new. Furthermore, all our cleaners have the necessary certification to provide their housekeeping services.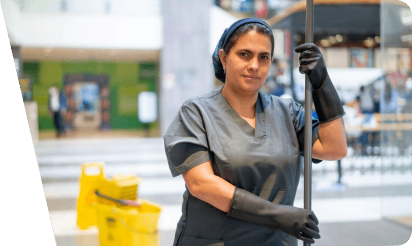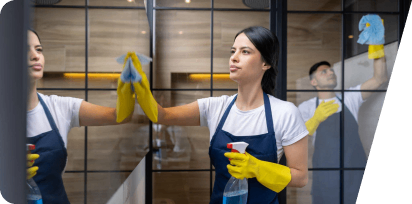 You can rely on our company to get the job done quickly and efficiently if you need home cleaning. Our trained team of expert cleaners will be at your house or workplace within a few hours. Their home cleaning services are reliable and efficient, saving customers time and effort. After any event or celebration, you will be tasked with cleaning the workplace.
Every company's primary goal should be to ensure happy customers. The consumer always comes first at our Housekeeping Service company. Every cleaning job is handled efficiently by our trained crew. We pay close attention to what our clients say and tailor our services to fit their needs without breaking the bank.
Most of our clients in Mumbai, Navi Mumbai, and Thane are pleased with the results of our cleaning service. Not only that, but they also provide glowing testimonials on our website.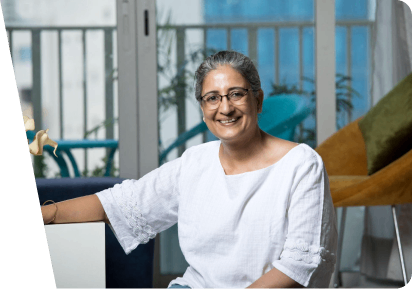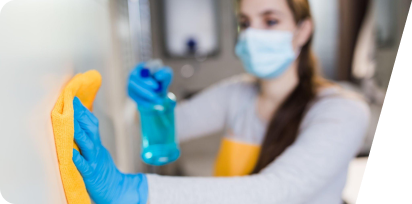 Works every day of the Week
You may take advantage of our maid service all seven days of the week. We are available around the clock, including holidays and weekends, to serve businesses, shopping centres, hotels, and private residences. Within a few hours, when our expert crew has arrived, your space will be immaculate and free of germs.
Every room in your home will get a thorough floor cleaning as part of our housekeeping service. We clean the floors by removing dust, debris, and stains from beverages like tea and coffee. Additionally, the floors are cleaned using heavy-duty brushes and vacuum cleaners.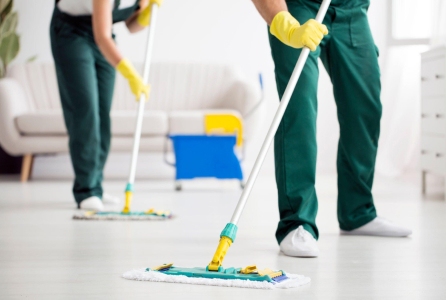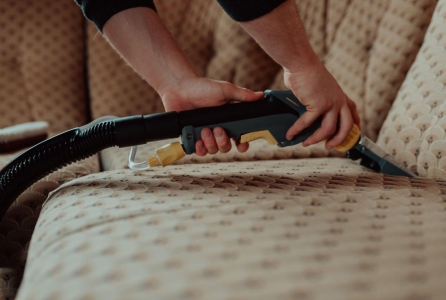 We'll care after your carpets, drapes, upholstery, and doormats. Our astute cleaners use gentle shampoos, mild solutions, and steam treatment to clean carpets and drapes.
We clean the carpets to eliminate the dust, filth, and pet dander so they may be used again. If you hire us to clean your carpets, you can be sure they will be germ- and bacteria-free.
The bathrooms in your building will be cleaned by a member of our trained cleaning staff as part of our housekeeping service. They disinfect the sinks, showers, and tubs, as well as the cupboards, soap dishes, and handles. Our skilled cleaners clean the bathroom floor and remove water and soap stains.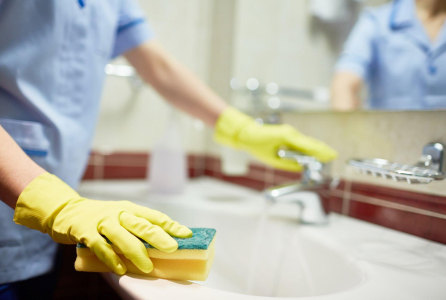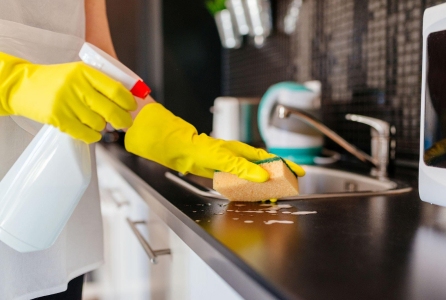 The kitchen equipment are cleaned as part of our standard housekeeping service in Mumbai, Navi Mumbai, and Thane. We use effective techniques to clean gas stoves, ovens, and range hoods, removing baked-on grease and oil deposits. Also, we wipe off the kitchen's drawers, cabinets, and other storage spaces. We also conduct a thorough job washing the windows and walls of the kitchen.
Frequently Asked Questions
What should I do before housekeeping services arrive?
Please take up any toys or clothes before our arrival for optimal efficiency. Please ensure your dogs have a safe and secure place to stay while we clean. If you follow these instructions, your loved ones and our staff may ensure that your belongings are secure.
What if something is lost?
We employ tried-and-true cleaning procedures that guarantee your property will always look spotless. We will tailor our cleaning services to meet your needs, including any special requirements you may have. If you let us know by the end of the next business day after your service if anything went wrong, we'll fix it at no extra charge.
What if the scheduled cleaning service falls on a holiday?
If one of your regularly scheduled cleanings occurs on holiday, we will contact you to make other arrangements. Our staff will also remind you of the supplementary housecleaning services we provide to ensure that your home is in tip-top condition for the approaching vacation. We'll try to accommodate your busy schedule as much as possible.
Do I need to be home for every cleaning service?
No. Our Monday through Friday, 8 am to 5 pm business hours mean that most of our clients will be away from home when we arrive. In most instances, our insured home cleaners are given access to a hidden keyhole or a garage code.
What do you guys not clean?
Clean toys
Pick up clutter
Clean your iron
Do laundry
Wash dishes

At Unicare Services, we have a team of dedicated people who use cutting-edge tools and technologies to keep your business operating at its optimal capacity. We take pride in offering the facilities management services that keep you, your valuable customers, and your loyal staff safe and secure. Contact us now.
Chennai
Hyderabad
Bangalore
New delhi
Gurgaon
Cochin
Mumbai
Pune
Ahemdabad

Copyright © 2020 - Unicare Services All Right Reserved